For Fun
Aircraft Quick Links:
Scenery Quick Links:

I also thought the "Fantasy" project was getting too crowded so created this. For Fun :-)

For more behind the scenes info on our work, check out https://flightsimsquadron.com/


To manage expectations, they are just for fun and not meant to be taken seriously :-)
Update June 2021:
"Woo hoo !"
Update 3-July-2021:
Updated glider wings for Mario and Luigi to be static as they weren't visible to other players when in multiplayer. Also animated the tires and added ribbon trails from this awesome library shared here.
Download the "touchingcloud-effects-aerobatics-smoke.zip" file here or from link above and extract to the Community folder if you want the ribbon trail effect for Mario and Luigi.
Update 5-7-21:
Added Olympic Rings scenery at Rainbow Bridge, Odaiba, Tokyo
Update 6-7-21:
Added Yoshi :-)
And a Speeder Bike - Delivery Edition :-)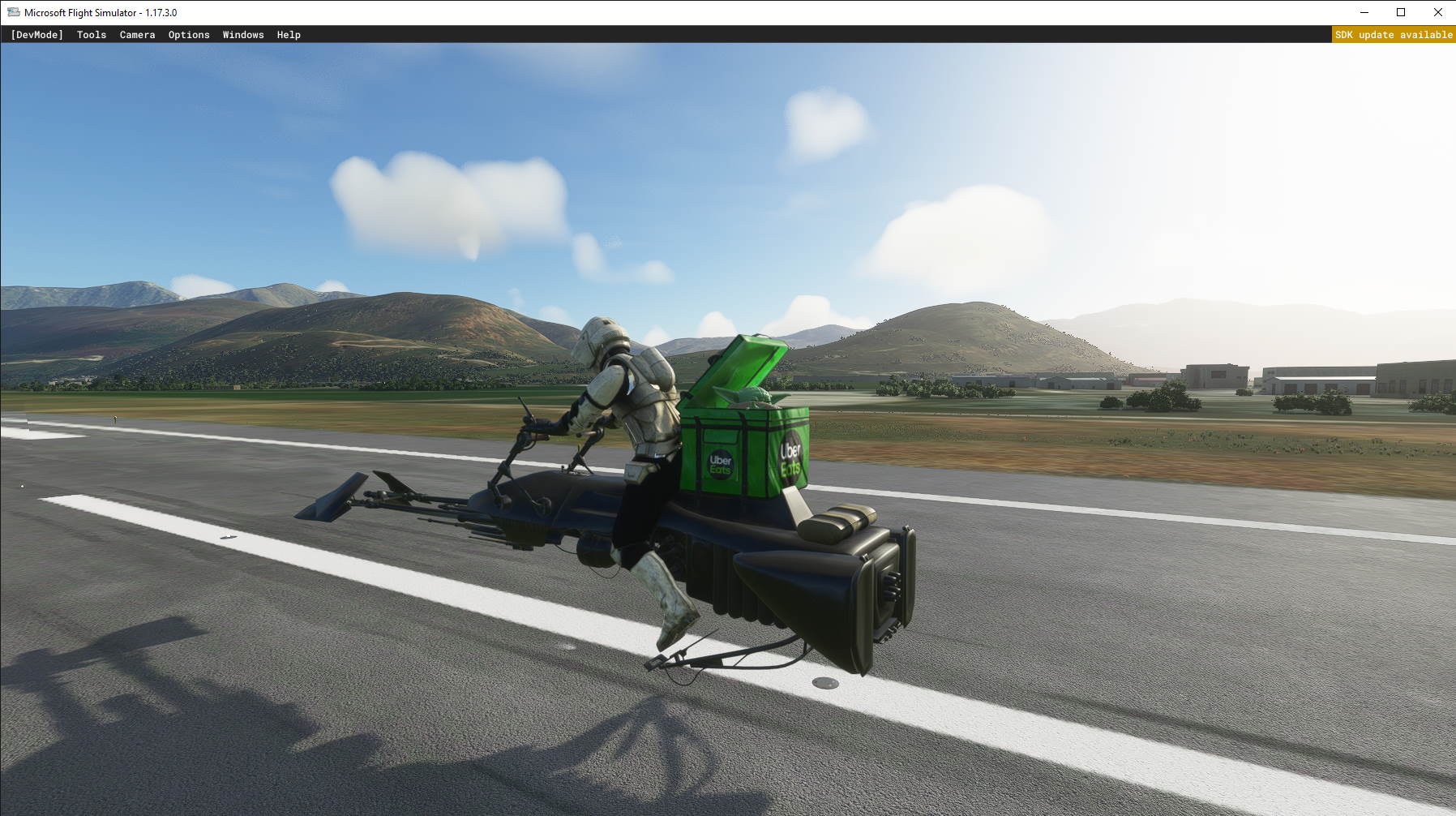 All logos and characters belong to their respective companies and we are no way affiliated to them, this is just for fun :-)
Download
Click download now to get access to the following files:
flightsimsquadron-paper-bird.zip
631 kB
flightsimsquadron-re-lady.zip
54 MB
flightsimsquadron-rick-morty-spaceship.zip
1 MB
flightsimsquadron-dodge-charger.zip
71 MB
flightsimsquadron-not-shepard.zip
110 MB
flightsimsquadron-buzz-lightyear.zip
71 MB
flightsimsquadron-doraemon.zip
24 MB
flightsimsquadron-kitty-gundam.zip
31 MB
flightsimsquadron-batmobile.zip
16 MB
flightsimsquadron-tokyo-rings.zip
98 kB
flightsimsquadron-magic-carpet.zip
28 MB
touchingcloud-effects-aerobatics-smoke.zip
37 kB
flightsimsquadron-yoshi-kart.zip
15 MB
flightsimsquadron-speeder-bike.zip
209 MB
flightsimsquadron-bladerunner-spinner.zip
46 MB
flightsimsquadron-drone.zip
48 MB
flightsimsquadron-luigi-kart.zip
16 MB
flightsimsquadron-mario-kart.zip
15 MB